This question has been asked a few times in the eBay Suspension Forums. I created my new account, I haven't been suspended yet, and now I have high enough feed back that eBay is offering me Powerseller status. Is it worth it?
Pros and Cons of Becoming a Powerseller
Should you become a Powerseller?
Pros:
Slightly more communication opportunities with eBay.
Having Powerseller Logo gives you more trust to buyers. This could mean more sales.
Depending on your Powerseller level it takes more to suspend you. You're giving SLIGHTLY more trust by T&S.
Cons:
EBay will suspend and limit a Powerseller account just the same as a Non-Powerseller.
Using a fake address could hurt you when eBay tries to send you information about your Powerseller status.
There is risk of suspension but it is slight.
No protection from T&S.
Nothing really changes.
Final Answer: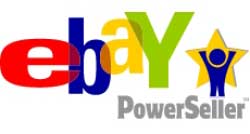 There is absolutely no advantage to Powerseller status. It may increase sales slightly, but is it worth it? The only thing that matters is having the right products at the right price. Plus you will be held to higher standards than most. Really – YOU DONT NEED IT.
Overall feel from other members:
Not worth it.
Join the eBay forums today and learn more about eBay Suspension! If you're tired of having your accounts suspended, subscribe to our eBay forum with over 800 members and we'll help you get back to selling for the long run! Learn how eBay links your accounts, and how to prevent it. Join the eBay Suspension Forums today.