2 of my accounts was limited on paypal about 2 months ago
was varified and i was moving some money to other accounts and i had a email off paypal?.
in the past 12 months, you have received £650.00 GBP or more into your PayPal account.
This means you are on your way to approaching the £1,700.00 GBP annual receiving limit. This limit is put in place to allow us to comply with our applicable Anti-Money Laundering regulations.
the account still left tht ebay wants me to pay the fees i set the account up in a mates name, now paypal want alot of proof.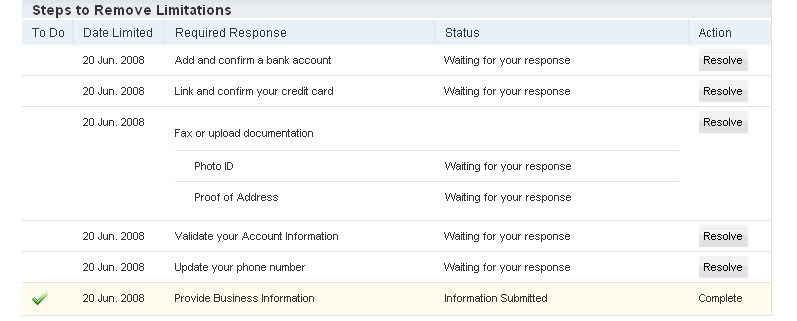 now at the time all this happerned, i had 2 ebay accounts under 2 of my cards, 1 card was a cash card other was a visa
they must of linked both accounts on paypal as i must of shifted some of my paypal money into my other account i used on ebay.
as they suspended both accounts at the same time for shifting money from accounts as my other account i had a email off paypal saying. Our system found unusual activity associated with your PayPal and eBay accounts that present a potential high risk both of my ebay accounts were suspended.
one of my accounts with my visa ebay but they took the sellers fees off my visa and they put account is now blocked after they took the sellers fees off my visa.
my other ebay account which had alot of good feedbacks had a cash card it was also suspsended now it says not a registered user,and Registration blocked, i emailed ebay and they said as i had issues with paypal however ebay also wanted my 30 pounds sellers fees they tryed taking it off my other card but bank would not let them., they said i need to sort my id for paypal so not sure what to do, is it worth saving this account as both ebay accounts went down same time, seemed to have closed my other account soon as they took there fees? i dont want to pay the selers fees and for them to close that account after they took the fees, they cant take the sellers fees off my cash card so keep emailing me to pay them.
shame really as i had hunderds off ebay refs on this account but is it really worth saving after whats happened?