Please note this guide is a couple years old and has been outdated with time. If  you're looking for a solid updated guide to setting up a new eBay account after a suspension I recommend you read eBay Stealth – eBay Suspension Guide. It is written by me and kept up to date. Good luck everyone! – Aspkin
Ebay for most people is great for getting rid of unwanted items or to make extra bucks on items lying around the house — but for some people it means finical stability and freedom from the corporate world. There are people out there that depend on eBay for a large part of their business.
Hardcore eBay-ers can do thousands and thousands of dollars a day in sales and the next day have their account suspended and unable to create a new account, I would know I was one of them. Fortunately after tons of trial and error, I'm able to create new accounts even after being suspended and continue with my online businesses.
What happens when eBay suspends your account?
You may never use the same credit card number to register a new eBay account.
Your email and eBay login trigger cookies with eBay, that list you as a suspended user, and ban any eBay accounts on your network or accounts you have ever logged into.
EBay places cookies on your computer with all your information on it. If you try to create, or log into another eBay account. EBay will link the accounts and suspend them also.
Your name, address, phone number among many other personal identifying information is logged and used against you with any new accounts you create.

Way's to get around this and to create a new account safely.
Clean your computer. Delete any software from eBay that might be forwarded information to eBay aka turbo lister. Delete all cookies and logged information from your internet browser.
Change your IP address, keep a log of IP address, and do not use the same one from a previous eBay account. Command prompt > type ipconfig or visit http://www.geobytes.com/IpLocator.htm?GetLocation to check your current IP address.
Register a new eBay account with a different email address. Preferability a Yahoo or Gmail account. I have found, if you use your own domain to register an account, example ebayaccount@aspkin.com, eBay will be able to ban your account faster as most likely only you will use this domain and eBay is not dumb.
Register with a pre paid credit card that can be throw away and acquired easily.
Try not to use the same information twice when registering. Example, name and address.
When asked for a bank account and routing number. Change a few numbers with the account number. Just remember choose payments to be made by your credit card.
There are a couple more important factors to know but I do not want to give all the secrets out. Through trial and error you'll be able to thwart eBay and continue with your business. Just remember never use the same information twice, especially your IP address and always remember to delete your cookies and never log into old banned accounts.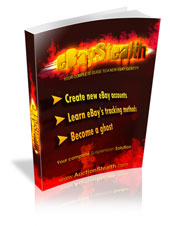 On a side note… the reasons I have been suspended were mostly stupid. My auctions would either be all images; sorry I like them to look nice. Or have a link to one of my websites, which is also bad. These are horrible reason to kill someone's business. The good thing about it is, every time eBay bans one of my accounts. They lose out on hundreds of dollars in revenue. Why pay after they ban you?
Want to learn how to get back on eBay and stay on? I wrote a complete step by step guide called 'eBay Stealth' that will show you how to safely and easily get back on eBay and PayPal and stay on! If you have been suspended by eBay and you don't know what to do, then you need to read my guide.
Good luck!