So you have a blog that cost you more in hosting fees then what contextual advertising can pay you. You had a dream of making money online as a blogger, you read John Chow Dot Com and you're inspired but you can't seem to break the money making code?
First things first… most people who are into making money online know about John Chow dot com. His blog is about making money online, and his goal is to generate as much money through his blog as possible. He has monthly income reports that tell you exactly what he does to make money online. The information he gives is priceless! Check out December's report:
Private Ad Sales: $10,480.00
Affiliate Commissions: $5,701.48
ReviewMe: $5,400.00
Text Link Ads: $2,097.74
Kontera: $1,000.00
TTZ Media: $321.14
Subscription: $40.00
Grand Total: $25,040.36
Read the rest of the report here: John Chow Blog Income Report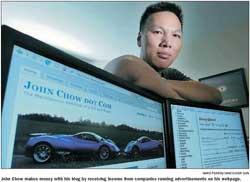 How does John Chow make most of his money online? Through private ad sales, affiliate commissions and ReviewMe post. Everything else requires the huge amount of traffic to see at least 1/100th of the value he's getting out of it.
Example: Kontera advertising. Those in text double links. Every time someone clicks these links, John Chow makes money. But actually John Chow negotiated a salary from Kontera. He's making a cool $1000 a month through them for a set period of time. Though its better then adsense, you won't make more then a couple bucks a day without serious traffic. So Kontera ads aren't worth it.
Another example is Text Link ads. Though John Chow makes some serious cash through Text Link Ads, mostly through their affiliate program, it's too risky to sell Text Link Ads if you depend on Google's organic traffic. Google has been lower the quality scores of known text link sellers as a punishment to selling text link ads. Simple look up 'John Chow' in Google, you won't find JohnChow.com until the 4th or 5th page. Google has slapped his site, as well as tons of other sites that sell TLA. If you have a website that depends on Google traffic, I wouldn't recommend Text Link Ads no matter what.

Google Adsense is all but dead. Since introducing separate content bids, advertisers have the ability to lower what they pay website publishers and man or man you'll be lucky if you get 5 cents per click these days. As an advertiser my self, I set my keywords to around 10 cents for content networks or I shut content ads off all together. It's simple not the targeted traffic I want or need. I'm surprised Google Adsense is still alive and kicking. The way it's going, it's not profitable for anyone anymore. What should be done is have site targeted advertising take over adsense. That way the advertisers have more control and publishers make more money. Either way adsense as it is just about worthless to promote.
So John Chow makes the big bucks from Private Ad Sales and Affiliate Commissions. That's huge!

Would you rather make $1-$2 a day with Kontera or Adsense advertising? Or would you rather make $20-$100 a day with affiliate sales and even more with private ad sales? Replace you adsense with affiliate programs and you might be surprised! You could also try Google referrals, which is basically Google's answer to affiliate sales.
Private ad sales – I've yet to do this, but I found a very nice piece of software that can help you with your ad sales. I plan to buy it when I get the chance and try it out on a couple sites. It looks like its very easy to use and something that'll make you big sales for years to come. You can download a copy here: OIOpublisher
So that's it! Contextual advertising isn't the way to go. It's all about Private ad sales and affiliate commissions. Be sure to check out OIOpublisher to get started with your private ad sales, and start looking up some affiliate sites like CJ, NeverblueAds and Clickbank. I'm doing pretty well with Clickbank, and working my way into other affiliate networks. If you're new to affiliate marketing or just making money online in general, one resource that has helped me a lot are the Digital Point Forums. They're basically a huge internet marketing forum which talks about Search Engines, Marketing, Business, Design & Development, and Products & Tools. If you're serious about making any money online, this is one resource you won't want to pass up.
Hope this helps with your money making adventures!
Have a great day!