Hehe, either it's the second shot of Monster energy in me, or I'm just excited about my next eBook I'm working on! Not only do I love doing eBooks now, even though I hate writing, but I love the fact that when writing an eBook I learn so much more about the subject it makes it all worth it.
So I just finished the first version of Webmaster Blueprint, an eBook about learning how to start on online business with your own website and how to market it.
I need to come up with a new tag line..
Webmaster Blueprint! The best damn internet marketing eBook out there, a Beginners guide to starting an online business and Marketing it for EXPLODING SALES! YEAH!!!!!! Bi*CH!!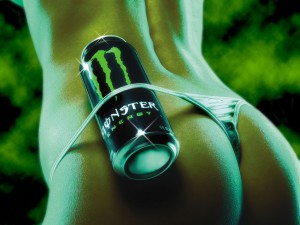 Haha.. Monster Energy is Awesome!
Ah, I forget what's my new eBook about? The secret I didn't want to talk about in one of my lastest post?
It's for the lazy Black Hat Marketer! I find at times I'm a pretty lazy person, other times when I have monster in me I'm apparently not so lazy. Okay enough delay, my new eBook which is still in the research stage will be on Auto Blogging!
What is Auto Blogging?
It's the process of setting up dozens, even hundreds of Blogs that run on autopilot!
If your auto blogs are setup correctly you can easily make hundreds even thousands of dollars a day with them. But it's not an easy process! I want to stress this, it's not all fun and games and not for a quick buck until you master auto blogs!
I've been auto blogging for a couple years now, and the blogs I have, some are doing very well and others are on life support with me reaching for the cord.
Auto blogging can be fun because you can watch and nurture your auto blogs into a money making machine that can drive tons of traffic to anything you want really.
If you have a business you want to promote, setup a dozen or so auto blogs and point your blogs to your business website. I used to do that when I sold virtual currencies for online games and it worked very well.
If you're an affiliate marketer, add your affiliate offers all over your blog for sales.
Currently I like to presale a product with landing pages, also I have banners setup to promote affiliate offers and I collect emails to promote more products later on! It's awesome and it generates me hundreds of dollars a day on autopilot.
I do a lot of things to make money online, and I found auto blogging and selling my own product seem to be the best bet for making solid long term income online.
I've been making money with auto blogs for literally years now… and that's the way I like it.
I'll keep you guys updated on the status of the Auto Blogging guide.
It shouldn't be a long process like Webmaster Blueprint, hopefully it will be done in a month or two! Most likely two months. *crosses fingers*
My monster drink is making me crash so I must nap now.
Cheers!